I've seen these fun photos for ages now, of "in my purse" or "must have" items. Well, this is my own personal twist on that idea—Things for Spring! These are just a few of the things that I've found myself using, and I thought you might enjoy!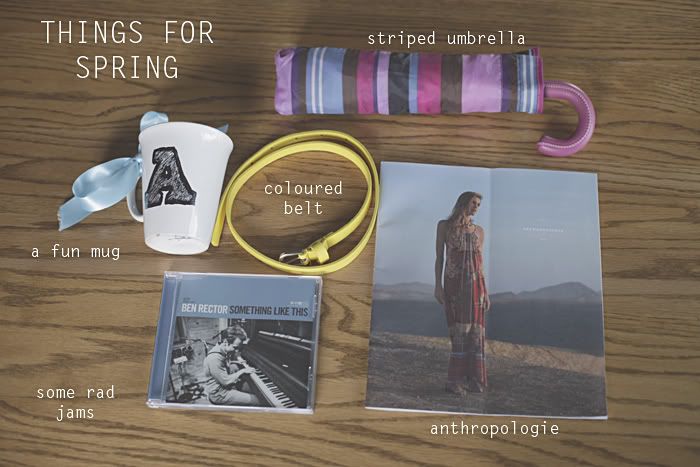 1. Striped umbrella:
it doesn't need to be striped, polka dots or flowers work just as well! But it should be noted that umbrellas are only useful to protect against the rain
when you have it with you.
(
note to self
.) That being said, I'm adding "check today's weather forecast" to my morning routine...yesterday was a bit soggy. ;)
2. A fun mug:
I've never met a mug that wasn't fun, have you? What's not to love, when it can be your best friend when working on late night editing (be it photos or an end of the semester paper)? I prefer to fill 'er up with
Oregon Chai Tea
, or simple herbal tea, but coffee is sometimes necessary. (Not black, thank you. I'm not ready for that yet!) What is your favorite hot drink?
3. A coloured (skinny) belt: I currently have two, and am looking for more. Supposedly thrift stores have good belt selections...if anyone knows of such, let me know!
4. Anthropologie's April catalog:
One of my favorite catalogs out there. It is so artistically put together, and the fashion & photography is to die for. Someday I'll actually buy something from
Anthro
, but until that day comes, I'm content just looking. :)
5. Rad jams:
if you missed
this post
, you won't know that one of my current favorites is Ben Rector. I've enjoyed him this spring, and now you can too!
that's it for now, folks. feel free to throw out some great hot drinks, new music, or anything else in the comment box below!
love always,
amelia renee:)